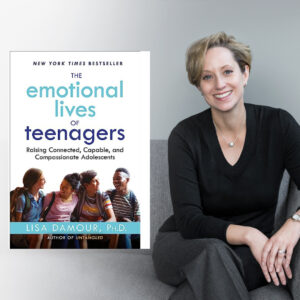 # 223 Emotional Lives of Teens: Interview with Dr. Lisa Damour
You are going to love this episode. Today we are going to dive into a
teenager's emotional life. I think what makes parenting teens so challenging is dealing with their intense emotions. Sometimes you're the target of their emotional storms and sometimes they turn their emotions inward. You worry about them being depressed or anxious.
How many times have we brought up a simple request to our teen, but it turns out to be not so simple because it triggers a huge emotional response? Moms can find themselves avoiding talking about important topics because they don't know how to handle their emotions.
I invited Dr. Lisa Damour, the author of The Emotional Lives of Teenagers, to talk about this nuanced subject of teenage emotions. In this episode we focus on her chapter called Managing Emotions, Part One: Helping Teens Express Their Emotions and the following chapter called Managing Emotions, Part Two: Helping Teens Regain Emotional Control
Recognized as a thought leader by the American Psychological Association, Lisa Damour, Ph.D., co-hosts the Ask Lisa podcast, writes about adolescents for the The New York Times, appears as a regular contributor to CBS News, works in collaboration with UNICEF, and maintains a clinical practice. She is the author of three New York Times bestsellers, The Emotional Lives of Teenagers: Raising Connected, Capable, and Compassionate Adolescents, Untangled: Guiding Teenage Girls Through the Seven Transitions into Adulthood and Under Pressure: Confronting the Epidemic of Stress and Anxiety in Girls. She and her husband have two daughters and live in Shaker Heights, Ohio.
To find out more about the Emotional Lives of Teenagers go to https://drlisadamour.com/ 
And while you are there go to the tab that says How Can I Help to get your downloadable bookmarks.
Follow Lisa on Instagram at https://www.instagram.com/lisa.damour/