#180 Change the Conversation Around Mental Health: Interview with Lauren Cikara
When teens and young adults struggle with their mental health they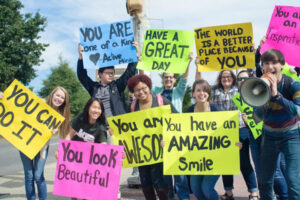 tend to isolate from friends and family. And when they are isolated they struggle with self esteem and shame. What teens and young adults and actually all of us need is conversation, connection and validation when we are struggling. Just knowing we are not alone makes us feel better and improves our mental health.
Our guest today Lauren Cikara is the Director of K-12 Initiatives at Active Minds. Active Minds was founded at the University of Pennsylvania following the suicide of founder Alison Malmon's brother. At Penn, Alison looked for existing mental health groups that she could bring to campus to combat the stigma of mental illness, encourage students to seek help early, and prevent future tragedies. Finding none, she created her own student-to-student model and formed an organization known as Open Minds. In just a few years, Alison was fielding calls from all over the country from students and administrators wanting to do something on their own campuses, both at K-12 schools and universities. In 2003, the organization, now known as Active Minds, established a national office in Washington, DC and was incorporated as a 501(c)3 organization. Now in more than 1,000 campuses and communities, Active Minds directly reaches more than 1.9 million people each year through awareness campaigns, events, advocacy, outreach, and more.
Active minds is about changing the conversation about mental health and therefore changing the culture.
Find out more about Active Minds at https://www.activeminds.org/
Follow on Instagram https://www.instagram.com/active_minds/