#137 The Unlikely Art of Parental Pressure
In this episode we discuss, THE UNLIKELY ART OF PARENTAL PRESSURE: A POSITIVE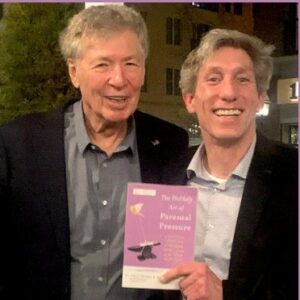 APPROACH TO PUSHING YOUR CHILD TO BE THEIR SELF by Dr. Chris Thurber and Dr. Hendrie Weisinger.
We hear a lot today about how much pressure teens are under and the dangers of parents pressuring their kids too much—and unknowingly creating kids who are anxious and depressed. They say that pressure itself actually isn't bad — it's an issue of how pressure is applied. And so we dive into what that means. How can parents differentiate between healthy and unhealthy pressure? All parents want their kids to be successful but what does that really mean? We explore the difference between stress and pressure. And then we talk about how to transform a "do or die" pressure into healthy pressure. Lots of rich and practical takeaways in this podcast ,
Chris Thurber, PhD, co-author of THE UNLIKELY ART OF PARENTAL PRESSURE is a board-certified clinical psychologist, educator, author, and father with a BA from Harvard and a PhD in child and adolescent psychology from UCLA. An acclaimed keynote speaker, he serves as a clinician and instructor at Phillips Exeter Academy.
https://drchristhurber.com/product/the-unlikely-art-of-parental-pressure
Hendrie Weisinger, PhD, co-author of THE UNLIKELY ART OF PARENTAL PRESSURE, is a world-renowned psychologist and pioneer in the field of pressure management, as well as the author of a number of bestselling books. He has consulted with and developed programs for dozens of 500 companies and government agencies.