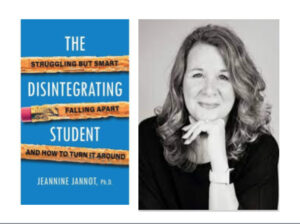 #124 The Disintegrating Student: Smart but Struggling & How to Turn It Around: Interview with Dr. Jeannine Jannot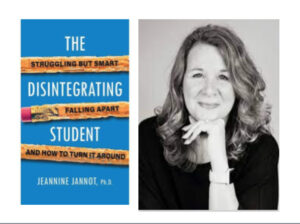 What is a disintegrating student and how has covid contributed to that? How can this be turned around before school starts?
To address this I've invited Dr. Jeannine Jannot to be a guest on our show. Jeannine is the founder of The Balanced Student and author of The Disintegrating Student: Struggling But Smart, Falling Apart, & How To Turn It Around. She has over 25 years of experience working with children, teenagers and young adults in both public and private school settings spanning preschool through college. Jeannine has a master's degree in school psychology from The Ohio State University and a doctorate in child and developmental psychology from the University of Connecticut. She has also been a college instructor, teaching psychology courses and freshman seminars, for the past 10 years.
We also explore the difference between a fixed mindset and growth mindset. Teens can self sabotage and self handicap themselves when they believe that they have a fixed mindset. In reality teens have a tremendous capacity for growth.
Did you know that a teens IQ can vary as much as 18 points in adolescence?
You are going to especially love Jeannines tips to be productive and well. specifically around organization, time management, study skills and habits, mindset , stress, sleep and screens
You can find information about Jeannine's coaching, speaking, book, and her monthly Some Thoughts newsletter on her website jeanninejannot.com.
Find Jeannine on Instagram at https://www.instagram.com/jjannot/
(Visited 20 times, 1 visits today)