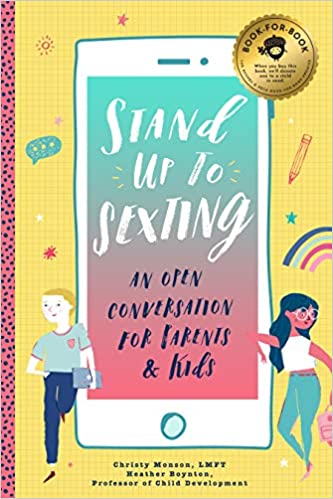 #073 Stand Up To Sexting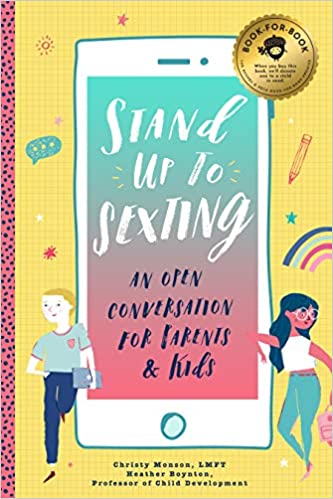 How do you safeguard your teens from Sexting? To answer this question I interview two experts.
Heather Boynton who is a mother of four (three who are currently teens) and is a professor of Child Development at Clovis Community College where she teaches a variety of classes including child and adolescent development.
AND Christy Monson who has an M.S. in Counseling Psychology and Marriage & Family Therapy from University of Nevada at Las Vegas. She established a successful counseling practice in Las Vegas, Nevada where she works with children and their families.
Recently Christy Monson and Heather Boyton have coauthored Stand Up to Sexting, An Open Conversation Between Parents and Kids..
I have been a family therapist for decades and have seen many girls who have suffered greatly from the aftermath of sexting. There are so many consequences to the girl, the boy, the families, bystanders, law enforcement and school districts. Most of these girls were bullied into sending nude pictures. Often older boys would threaten and pressure these girls. They were promised that they would not share their picture …only to have their pictures shared to multiple middle schools and high schools in their school district. Moms would bring these girls to see me, their heads hung down in shame. They were utterly humiliated. What I saw over and over again is that these girls weren't bad girls…they were good girls, they were naïve girls, and they were scared girls. Many just didn't know what to do and thought the only option was to send the picture.
Christy and Heather wrote Stand up to Sexting so that parents and especially middle schoolers could have honest conversations. For this to happen the teens need to feel safe to share this secret with their parents.
You can find Stand Up to Sexting, An Open Conversation Between Parents and Kids on Amazon.
You can reach Christy at christymonson.com
You can reach Heather at djbandhcb@gmail.com