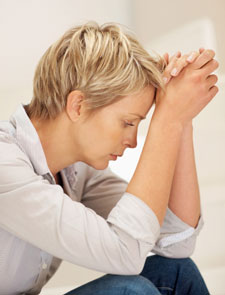 Moms and Fear
I don't think the hardest part of being a mom is the physical tasks like running a household, helping with homework, or making sure your daughter is on track.
I think the hardest part of being a mom is how it affects our mind, heart and emotions.
The most difficult of all emotions for moms to deal with is FEAR.
Fear is bigger than worry. Worry is the warm up show. You may worry that your daughter didn't do well on her test.
Fear goes to the extreme.
My daughter is not going to make it in life
She is going to ruin my life and home
She won't get into college
I've lost my little girl
She's going to get a horrible reputation
She could get addicted to drugs
She could get pregnant
She could die in a car accident
She might kill herself
There's something wrong with her
I can't protect her
Shell never leave home
I'm a failure
Fear is like chaining your heart to a million pound weight.
Fear takes over your life. It keeps you up at night. It keeps you preoccupied during the day.
Fear starts in the limbic system in your brain and catapults you into stress response.
In other words fear spreads like wildfire and gets into your skin. You literally feel it in your heart and wear it on your shoulders. Your body is overdosing in adrenaline and cortisol which makes it impossible to feel things like peace and gratitude.
Here's the sad thing. Fear is not a one-time event. You can start living every day in an atmosphere of FEAR. You've heard that expression "a fish in water." A fish in water is not aware of water because he is swimming in it all the time. The water is normal and hard to identify, because the fish is in it all the time.
If you are not careful you can be swimming in fear. Everywhere you turn you are in fear. The tension in your shoulder, an upset stomach, or achy shoulders, becomes the norm.
Thank God it doesn't have to be that way.
Fear muddies our vision. Let's go back to Mr. Fish in water. If Mr. Fish lived in the gulf waters outside of Galveston, TX, his vision is clouded by the polluted waters of oil refineries and who knows what. He can't see clearly. It would be a whole new story if Mr. Fish lived in the Bahamas. He could see the sun, the bottom of the ocean, and all the beautiful fish.
See we have to do something with our fear, if we are going to see clearly.
Fear blinds us from seeing the beauty, gifts, and treasures in our daughters. We dismiss that our daughter made an A on her test because the fear blinds us.
What would happen if you could see your daughter clearly?
You would see your daughter in a new way. You would see her more realistically. You would see that she is in process. You would see her beauty and potential. You would give her credit for the little things.
You would love, like, appreciate and treasure her.
Life would be a lot more peaceful between you and your daughter, because FEAR causes moms to be a bit intense. And if moms are honest, we can go off on our daughters when we are afraid. In other words fear causes drama.
One of the best ways to get rid of fear is to create an effective proactive parenting strategy.
See if you are obsessing, you are not really doing anything. Your water is muddy and you are not going to make the best decisions.
Are you ready to transform your fear into an effective parenting strategy? Are you ready to clear up the muddy water and see your daughter and your life in a fresh way? Do you need someone to hold your hand and support you at this time? Wouldn't it be great if you could have someone to bounce your concerns off of and give your practical advice? Wouldn't it be great if your body and heart didn't hurt anymore? Wouldn't it be great if you got your home, daughter, and life back?
Well you can…Today the Power Your Parenting Program is starting. Let me know you are interested and I will get you in. Don't miss this chance. This is the last time I will be offering the program this year. I have designed this online program for busy moms. You'll be amazed at what ten minutes a day for 7 weeks and 4 group calls with amazing moms can do in your life. I have an amazing guarantee.
If you don't see the results you hope for I will give you your money back. Listen, I am doing this because I am passionate that you not suffer anymore and that you have a great relationship with your daughter and family.
Email me now or call my office at 713 408-6112 and let's start changing your life today.