# 227 The Amazing Teen Brain: Interview with Elisa Nebolsine
Have you ever thought, "What was my teen thinking?" In this episode,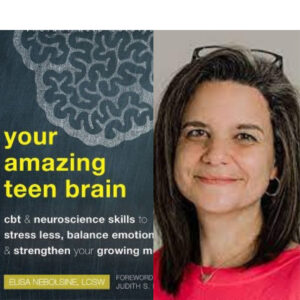 we explore the upside and downside of the teenage brain.
I interview a knowledgeable and fellow therapist who is a parent to teens and is a therapist to teens. She is also an author and wrote Your Amazing Teen Brain which is written for teens but is good for moms as well. If you have a teen that can get lost in big feelings and get caught in negative automatic thoughts this book will help them understand their brain and give them tools to change their brain in a positive way. Her book contains interesting research on how teens can increase their IQ through effortful work.
Let me introduce you to Elisa Nebolsine.
In addition to her clinical work, Elisa serves as an adjunct faculty at the Beck Institute in Philadelphia, and at Catholic University's graduate school of social work. Additionally, Elisa teaches and consults on cognitive behavioral therapy and clinical practice with children and adolescents both locally and nationally.
Elisa earned her master's degree in clinical social work from Smith College and has worked with kids, teens, and young adults for the past twenty-five years. She has been featured in publications ranging from the Atlantic to NPR and named a Washingtonian (DC) "Top Therapist" in multiple categories.
Contact Elisa at https://www.cbtforkids.com/