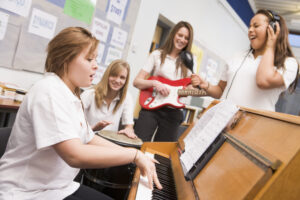 #194 Should Moms Let Their Teens Quit Music Lessons? Interview with Dana Vachharajani
Today we are going to talk about teens and music education. Your daughter has been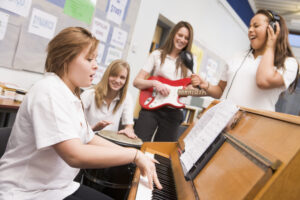 playing piano since she was seven and now that she is a sophomore in high school and wants to quit piano. Do you let her? Your son wants to play bass so you sign him up for lessons but he doesn't want to practice. Do your force him? Your daughter wants to quit choir and quit taking vocal lessons because she can't sing like Taylor Swift. What should a mom do? Do your force them or let them quit? How can parents motivate their teens to keep pursuing their music. What are the advantages of learning to play instruments in the teenage years? How does music positively impact the developing teen brain?
Our guest today is an expert in music education.
Dana Vachharajani's multifaceted career has been marked by singing in top venues, founding and teaching in her own private music school, Dana V Music, as well as consulting, and advising to further develop music education. As the teaching advisor for Ensemble Music Schools, she oversees the positive recruitment, retention and development of the many talented and nurturing teachers that are at the heart of our organization as well as oversees the pedagogical growth in each of our schools. A graduate of The Juilliard School and Carnegie Mellon University, she has been a featured soloist in Carnegie Hall, and Alice Tully Hall, as well as a touring artist and soloist with major orchestras around the US. Dana is a mother to three incredible children and also currently teaches voice at Dana V Music, the original Ensemble Music School.
To learn more about Ensemble Music Schools or contact Dana go to https://www.ensembleschools.com/