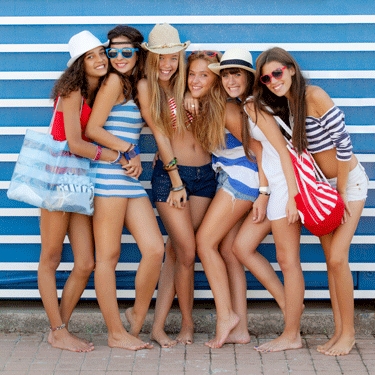 Tips for reducing the drama and increasing the fun with your teen this summer: A Q&A with Colleen O'Grady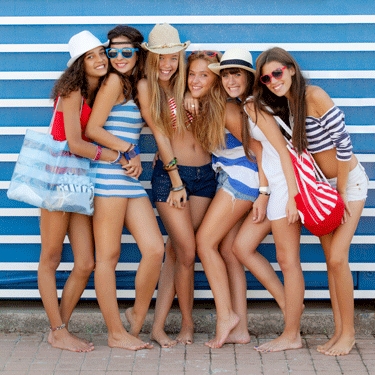 When you are the parent of a teen, the fantasy of summer break includes both laughs shared in the sunshine and industrious kids getting work done. Often, the reality is a bit different. That disconnect can lead to family drama, which is no one's idea of a good way to spend the summer.
Here to offer help to parents of adolescents is Colleen O'Grady. She's a licensed marriage and family therapist with more than twenty-five years of experience as well as the author of Dial Down the Drama: Reducing Conflict and Reconnecting with Your Teenage Daughter. She's also a mom who has really been there recently as a parent of a teen.
She recently offered advice for parents for reducing the drama and increasing the fun with their teens this summer.
Between Us Parents (BUP): Some teens are really motivated over the summer; others are more interested in relaxing, having fun, hanging out with friends, etc. Is it normal for teens to not be thinking about how to reach their full potential over the summer?
Colleen O'Grady (CO): Yes. After the stress of finals, most teens say they want to party, have fun, relax, stay up late, and sleep all day. However, it's not what they really want. In less than a week they are complaining, "I'm so bored!" If they go from being 100% plugged into friends, activities, and schoolwork to no planned activity, well – it's a recipe for drama.
BUP: Parents of teens are aware that we don't have a lot of summers left with our kids. We want them to be full of good times and happy memories, but we also don't want to kids to just slack off. How do you suggest families find a balance?
CO: Many teens are stressed out and overscheduled during the school year.
Summer is a great time to dial down the pressure and stress by decreasing the workload and activities. But you don't want to go from 100%-full-on to nothing. Try dialing it back to 75% so that your teen has more downtime and room for fun.
In my book, Dial Down the Drama, there's a chapter on what your teen needs to thrive. These elements are not just for the school year; they are also needed in the summer. They are key to helping you find the balance.
For example, teens need daily exercise, which often gets neglected in the summer. A teen that doesn't exercise is a cranky teen.
Teens don't get a two-month break from responsibility. They need to contribute to the home by doing chores or getting a part-time job.
Parents need to get clear on their expectations for their teens and then develop a well-defined formula for balance, which can include:
Exercise
Sleep
Downtime
Screen time
Fun
Positive adventures
Face-to-face with friends
Learning a new skill
Taking responsibility
Developing creativity
Volunteering
Taking a class
Without any parameters, your teen will most likely be Snapchat-ing till 3 or 4 a.m. and sleeping all day. Be clear on when you expect your teen to go to sleep and when they should get up. In the summer months, your teen can adjust their sleep schedule two hours later without it greatly affecting their normal sleep/wake cycle.
BUP: How can parents encourage kids to be productive in ways that don't feel like nagging or lead to conflict?
CO: Your formula for balance gives you a framework to talk to your teen. It's not productive to say, "You are going to take a computer class this summer."
You can't put your goals on them. You need to follow your teen's interests.
Parents can say, "I need you to learn a skill, take a class, or develop your creativity this summer." You can give them the framework, offer them ideas, and then it's their choice. "You can go to this camp, or take this class. You can volunteer. You choose." If you are following their interests, they will get excited and be grateful that you are willing to invest in them.
It's also important to help your teen connect the dots. When you talk to your teen about taking a class this summer, help her see that will decrease her stress significantly the following year. This can help motivate her to take the class.
BUP: What are your favorite ways to engage kids' brains over the summer?
CO: Summer is a great time to provide diverse opportunities to meet new kids, and develop new talents, abilities, and skills in a fun and relatable learning environment that is really different from their normal school experience, be it through camps, school trips, mission trips, or even a college class. Often this gives kids a fresh start, a chance to recreate themselves and build confidence.
My favorite way to engage kids' brains is through positive adventures. Teens need adventure and will stir up all sorts of risky behavior to get it.
Positive adventures have many facets that engage a teen's brain. They are safe, structured, and facilitated by an adult. They provide new and novel experiences. They get teens away from screen time and have them engage in real-life face-to-face communication. They push teens past their comfort zone and self-imposed limits. Teens discover they can do more than they thought.
For ten years, I took about fifteen teens on a one-week wilderness trip in southern Colorado. On the first day, they complained about no cell phones. They complained that their packs were heavy. They complained that they couldn't take a shower and wash their hair. But eventually, the walls came down and the kids shed their teenage bravado, and became light and carefree. They had to work together to climb the peak, cross the rivers, and put up their tents. By the time these kids were off the trail, they had learned life lessons they would never forget.
How important is it to have fun as a family over the summer? Are there any ways of combining fun that can change a teen's brain for the better?
Fun is extremely important. When the stress is high during the school year, the fun meter goes down. That's why you want to bring the stress meter down, so the fun goes back up.
Fun is important because it is a natural de-stressor, and replenishes all the positive body chemicals that make us happy, joyful, and calm. Current statistics say that two out of five teenage girls are suffering from significant anxiety. We need more fun!
Fun for the sake of fun is valuable in itself. You want your teen to experience natural and healthy fun instead of reaching for alcohol and drugs.
Positive adventures are a way to combine fun and develop the brain. Take your family camping and go bike riding. Go water skiing or complete a ropes course. Snorkel with sea turtles. Travel to a different country on a mission trip from your church. Make history come alive by visiting historical sites.
Caution: You want to make sure you check in with your teen about what they consider fun. Your fun and her definition of fun can be very different. Have clear guidelines around the fun activity.
What are common mistakes that parents tend to make, especially in the summer, that can up the family drama? What are some suggestions for dialing it back?
The common mistakes that parents make in the summer are:
Not creating a plan for the summer.
Take time to identify the areas that will help your teen to thrive like responsibilities, exercise, learning a new skill, fun, and downtime. An important aspect of the plan is to keep your teen engaged in meaningful activities so that they are not unsupervised for long periods of time.
Forcing your agenda on your teenager.
Make sure you get your teen's input and let him know you want him to have a great summer and you do want him to have fun.
Not being clear with your teenager about expectations, curfews, boundaries, and consequences.
First, you need to be clear about the summer rules. You want to be clear about where you will compromise and where you won't compromise. Then, make sure you and your partner are on the same page. Next, you want to communicate these expectations, curfews, boundaries, and consequences with your teen.
The entire school year can be a constant blur of activities: from homework, chores, and afterschool activities. Summer is about reducing the pace and the pressure for both you and your teen. Of course, you want your kids to be active with learning opportunities and some fun activities, but you don't need to be constantly shuttling your kids all over town. Downtime is good for your teen and their brain (and you too!). A little couch time to read, play video games, or watch a movie is part of a healthy balance.
Not getting a break from your teens. 
It doesn't matter if you work full-time, or you are a stay-at-home parent, you need to take a break from your teens. If you don't get your personal time, you can get easily irritated with your kids. Be intentional to give yourself time to replenish your energy by attending a yoga class, going for a walk with your best friend, and having a nice relaxed dinner with your partner.