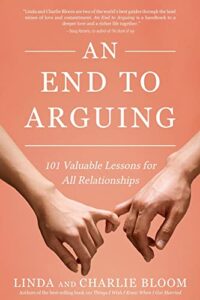 #203 An End to Arguing: Interview with Linda and Charlie Bloom
Are you sick of the constant arguing not only with your teens but also
with your husband, father or partner. Would you like to put an end to arguing, or at least dial it down? Well I brought in amazing guests to talk about it.
Our guests today are Linda and Charlie Bloom
Married since 1972, Linda and Charlie Bloom have been working with groups, individuals, couples and organizations to enhance the quality of their relationships and communication skills since 1975. They both have Master's degrees in Clinical Social Work and have lectured, led seminars and provided consultation at universities and learning institutes throughout the United States as well as internationally. They have written and published four books, Happily Ever After…and 39 Other Myths about Love: Breaking Through to the Relationship of Your Dreams, 101 Things I Wish I Knew When I Got Married: Simple Lessons to Make Love Last, Secrets of Great Marriages: Real Stories from Real Couples about Lasting Love, and That Which Doesn't Kill Us: How One Couple Became Stronger in the Broken Places. Their organization, Bloomwork is dedicated to promoting healthy, fulfilling, and successful relationships for individuals, couples and organizations. Their newest book was just released, An End to Arguing: 101 Valuable Lessons for all Relationships.
For great content and to learn more about Linda and Charlie's work go to https://bloomwork.com/