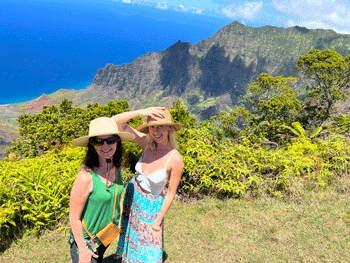 Dressing Room Drama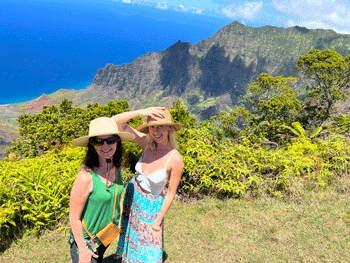 I just got back from an amazing vacation with my family in Kauai. And one thing about having a 27-year-old daughter is that she will keep you honest and point out things that you have been ignoring.
What I have been ignoring is my bathing suit. I actually don't know how long I've had it, but it's been at least ten years, maybe fifteen. I am so far from the bikini days of my twenties, so I was content with a good enough bathing suit. But my "good enough" bathing suit was stretched out and didn't fit at all which my daughter pointed out. Both my daughter and her boyfriend kept encouraging me to buy a new bathing suit.
Okay. Okay. Okay. But the last thing I was going to do was go bathing suit shopping with my daughter in paradise.
So, I left my bathing suit in a trashcan in Kauai before I flew back home. I was now committed to buying a new bathing suit.
Back in Houston, I went to Dillard's department store and all the bathing suits were 65% off. Even the universe wanted me to buy a new bathing suit:)
While I was trying on bathing suits, I could hear a mother and middle school daughter in the dressing room next to me. I think both mom and daughter were trying on clothes. Their conversation was a wonderful distraction for me as I was trying on bathing suits.
The daughter was criticizing everything the mother was trying on and she was quite eloquent in her criticism. At first, the mom was very patient and asked her daughter why she didn't like the dress or the shirt. And mom also had opinions about what the daughter was trying on. I didn't hear one, "cute" or "that looks great on you," comment.
I went out on the floor to find more bathing suits to try on and when I got to the dressing room things escalated. I could tell both mother and daughter were frustrated. And then I hear the tell-tale sign that things were going down. In a very stern and strong voice, I hear, "I AM THE MOM," which she kept repeating at least 3 times, while her daughter's voice got louder and louder. And I could have predicted what came next. The daughter started WAILING big tears and then mom cratered and tried to console her.
I was ready to check out and left the dressing room. I never got to see what this mother and daughter looked like.
What's the moral of this story? Moms think that shopping for bathing suits, dresses, shorts, or whatever with their daughters will be a great bonding experience. Many of these trips can spiral out of control like this poor mother and daughter. There are so many red-hot issues when shopping for clothes for your teens. The majority of the time your daughter will pick out something that will make your mom's alarm go off which could be a halter top, bootie shorts, or the most expensive pair of jeans in the store.
Protip.
Lower your expectations for great mother-daughter bonding while bathing suit shopping or other clothes shopping with your teen.
Before you go shopping be really clear with your teen. How much you are going to spend and how much time you are going to spend. Be clear about what stores you are going to, and what is acceptable and what is not acceptable.
A "spontaneous" not thought-out shopping trip with your teen can set you up for dressing room drama.
…oh yeah and by the way I did buy TWO bathing suits.