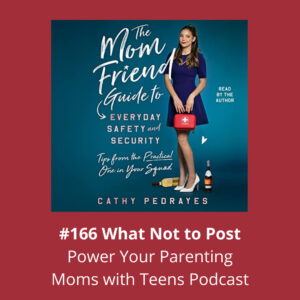 #166 What Not to Post: Interview with Cathy Pedrayes
This episode is all about safety and security.
Safety expert and former scientist, Cathy Pedrayes is best known to her 2.3 million TikTok followers as the "mom friend." With her signature blue dress and pearls, Cathy's content includes clever safety tips, such as how sleeping with a door closed can save a life and go-to lies for awkward situations and what not to post and what to do when strangers approach you or knock on your door. Cathy's safety life hacks have been covered by Good Morning America, Buzzfeed, Today, and more, as well as in her new book published by Simon & Schuester, The Mom Friend Guide to Everyday Safety and Security: Tips From the Practical One in Your Squad.
We also discuss. . .
What are 5 seemingly innocent questions that strangers use to take advantage of you?
What should teens know about protecting themselves in their dorm or apartment?
What are the top apps to ease worried parents' minds?
Follow Cathy on TikTok https://www.tiktok.com/@cathypedrayes?lang=en
Follow Cathy on Instagram https://www.instagram.com/cathypedrayes/ 
Contact Cathy at info@cathypedrayes.com