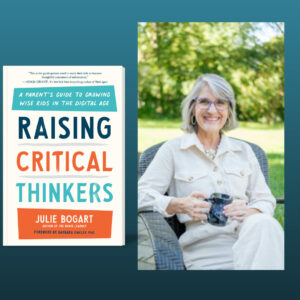 #151 Growing Wise Kids in the Digital Age: Interview with Julie Bogart
How do we raise teens to be critical thinkers so they won't believe
everything they read online?
In this episode I have a conversation with Julie Bogart who recently published, Raising Critical Thinkers: A Parents Guide to Growing Wise Kids In the Digital Age.
Julie Bogart is the creator of the award-winning, innovative Brave Writer program, teaching writing and language arts to thousands of families every year. She homeschooled her five now-grown children for seventeen years and is the founder of Brave Learner Home, which supports homeschooling parents through coaching and teaching. She has also taught as an adjunct professor of theology at Xavier University. Bogart is the author of The Brave Learner.
Julie helps us think about self-aware critical thinking. As you know today everyone feels like an expert. Our teens look to the internet for their answers and think they have found the truth. In Raising Critical Thinkers, Julie gives us tools to help teens navigate the misinformation they find online so that teens can identify a fact, versus a fiction, or outright lie?
Also, she helps us identify the difference between fact, interpretation, evidence, perspective, opinion, prejudice, bias, belief, story, worldview, and what role they play in critical thinking.
To learn more about Julie and get her free downloads from her new book go to: https://raisingcriticalthinkers.com/ 
Follow her on Instagram at: https://www.instagram.com/juliebravewriter/