#147 How to Make Peace With Your Mom: Interview with Dr. Judy Rabinor
In this episode, we turn our attention to our moms. Every mother-daughter relationship is complicated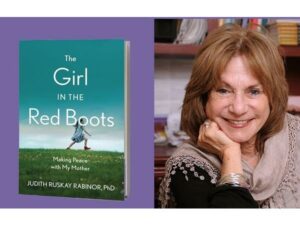 and this is true with our own moms. We can tend to reduce our mom to a single story, for example, you can idealize your mom, "she was the best mom ever" or label her like "my mom was such a perfectionist." The truth is that several things can be true at once.
Our guest today Dr. Judy Rabinor shares her journey with her mom in her newest book, The Girl in the Red Boots.
I love these 3 quotes from her book.
"Every mother contains her daughter in herself and every daughter her mother and every mother extends backward into her mother and forward into her daughter." —Carl G. Jung, MD
"We are taught to believe that pent-up hostility is dangerous, yet the real tragedy is pent-up love. . . . The release of pent-up love and respect for our mothers brings the added gift of love and respect for ourselves." —Paula J. Caplan, PhD
"Grief has been my teacher, helping me understand, accept and make peace with the fragility of life, the complexity of love, and the imperfections inherent in all relationships, especially mothering." Judy Rabinor, PhD
Judith Ruskay Rabinor Ph.D., is a clinical psychologist, author and writing coach, writing coach, and consultant. She offers psychotherapy consultations for individual, couples, families, and mental health professionals. She conducts a therapy group for binge eaters, a consultation group for mental health clinicians interested in women's issues and 2 writing groups—you can read more about these groups on her website: Judithruskayrabinorphd.com. She is the author of the recently published book (2021): The Girl in the Red Boots: Making Peace with My Mother and two previous books: A Starving Madness: Tales of Hunger, Hope and Healing and Befriending Your Ex After Divorce: Making Life Better for You, Your Kids and Yes, Your Ex .
Contact Judy: www.judithruskayrabinorphd.com