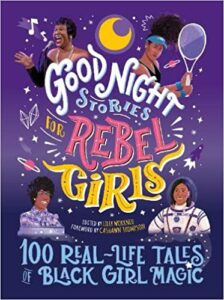 #133 Good Night Stories for Rebel Girls
Who doesn't like good stories especially important ones?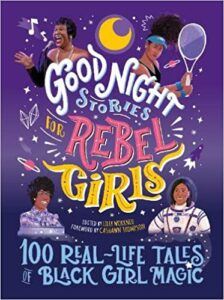 Good Night Stories for Rebel Girls: 100 Real-Life Tales of Black Girl Magic: which tells the stories of 100 barrier-breaking Black women from over 30 countries ranging from athlete Naomi Osaka and poet Amanda Gorman to singer Rosetta Tharpe and journalist Ida B. Wells. This book was created by Black women from cover-to-cover: edited by award-winning journalist Lilly Workneh and #BlackGirlMagic originator CaShawn Thompson, written by four Black women, and illustrated by 60 Black women and non-binary artists.
LILLY WORKNEH is an award-winning journalist who is passionate about impactful storytelling. She previously led HuffPost's "Black Voices" and later served as the editor-in-chief at Blavity News, where she directed the platform's mission to amplify, unpack, and celebrate the many aspects of the Black millennial community. Lilly has since joined Rebel Girls as head of digital content and is a Forbes "30 Under 30" 2018 honoree.
CASHAWN THOMPSON is the brilliant mind behind Black Girls Are Magic and the hashtag #BlackGirlMagic. She believes in the phenomenal power and skill of Black women and girls. A passionate advocate of the work, will, and wonder of Black women, CaShawn champions their many causes online and in her everyday life. She lives right outside of her hometown of
Washington, DC, in Mount Rainier, MD, with her husband, two cats, and the various children and grandchildren who visit daily.
Connect with Lilly on Instagram https://www.instagram.com/lilly_works/?hl=en and rebel girls https://www.instagram.com/rebelgirls/?hl=e
Connect with Cashawn at cashawn.com and on instagram https://www.instagram.com/thepbg/
Check out Good Night Stories for Rebel Girls https://amzn.to/3FecBIL