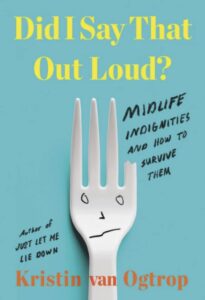 #110 Midlife Indignities and How to Survive Them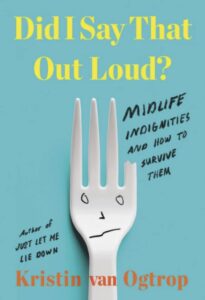 In a culture of perfectionism and pressure we need ways to release the stress. I can think of no better way than healthy humor. There is so much fodder for humor while parenting teens and living in these middle years. Today's episode is on the lighter and even fun side. Our guest today helps us take ourselves and our situations lightly.
In this episode I interview Kristen van Ogtrop.
Kristin is the author of Just Let Me Lie Down: Necessary Terms for the Half-Insane Working Mom. The former longtime editor-in-chief of Real Simple and "The Amateur" columnist for Time, she is a literary agent at InkWell Management. Her writing has appeared in countless publications, and the New York Times bestselling collection, The Bitch in the House. She is a wife and mother of three, but sometimes loves her dogs more than anybody else.
Kristin just released her new book, Did I Say That Out Loud? Midlife Indignities and How to Survive Them. Kristin is a very gifted writer who pays attention to the absurdities we endure and names them.
She does address some of the challenges of those middle years but in a way that is so real, poignant, optimistic, and hilarious all at the same time. There were many times that I literally laughed out loud while reading her book especially reading her chapter, "When Things Fall Apart." I think it's such a gift when someone can help you laugh at yourself and not take your life, your parenting and your future so seriously and revaluate whats the point of it all.
Check out her new book: https://amzn.to/3mpmJp9
Follow her on Instagram: https://www.instagram.com/kvanogtrop/
<iframe frameborder="0″ height="200″ scrolling="no" src="https://playlist.megaphone.fm?e=CSN1425596887″ width="100%"></iframe>
(Visited 52 times, 2 visits today)