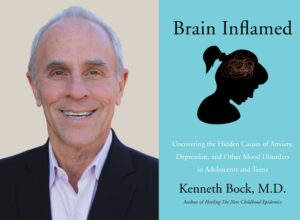 # 107 Hidden Causes of Anxiety and Depression in Teens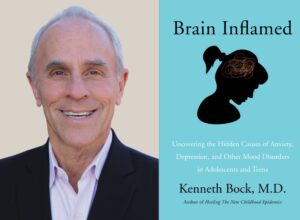 In this episode I interview Dr. Kenneth Bock the author of "Brain Inflamed: Uncovering the Hidden Causes of Anxiety, Depression and Other Mood Disorders in Adolescents and Teens." This book is literally fresh off the press.
Over the past decade the number of 12 to 17 years olds suffering from mental health disorders has more than doubled. Which leaves all of us asking what is causing this epidemic. And I know many of you listening have teens who struggle with anxiety, depression,ADHD, and other mood disorders. Dr Kenneth Boch shares a revolutionary new view of adolescent and teen mental health –which I think will be encouraging and helpful to those listening.
Kenneth A. Bock, M.D. is a board-certified physician who received his MD degree with Honor from the University of Rochester School of Medicine in 1979. An internationally recognized pioneer of integrative medicine, he is the best-selling author of Healing the New Childhood Epidemics, The Road to Immunity, Natural Relief for Your Child's Asthma, and The Germ Survival Guide. He has also contributed to numerous professional publications and is an in-demand national and international speaker. Over the course of his thirty-five-year career, he has become known for his unique ability to identify and untangle the most complex, multisystem, multi-symptom medical cases. His world-renowned private practice, Bock Integrative Medicine, is located in the beautiful Hudson Valley, in Red Hook, New York.
Contact him through kenneth@braininflamed.com or go onto braininflamed.com
;
(Visited 20 times, 1 visits today)