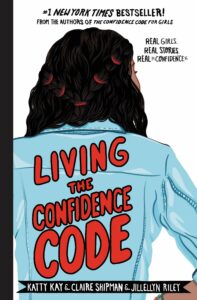 #104 Girls Living the Confidence Code: Interview with Katty Kay and Claire Shipman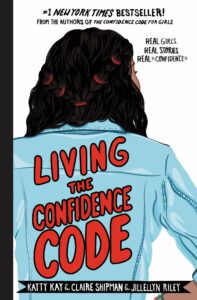 Between ages 8 and 14 girls confidence levels drop by 30%. Half of teen girls feel the pressure to be perfect. Girls are 22% less likely than boys to describe themselves as confident. Nearly 8 in 10 girls want to feel more confident in themselves.
Katty Kay and Claire Shipman are on a mission to change this. Each of them have incredible experiences as journalists and both are mothers of fifteen-year-old daughters. They wrote New York Times Bestseller, "The Confidence Code for Girls" in 2018. Recently they have launched, "Living the Confidence Code," the book includes real, authentic and inspiring stories of thirty girls around the world between the ages of 8-14. I was so touched by these girls courage to face obstacles, failure, and take the risk needed to gain confidence. This book is upbeat and restores your hope in the world.
This is such a delightful conversation with Katty and Claire who were very open about their relationships with their daughters. We talk about what moms can do to foster confidence in our daughters. The good news it's not about being perfect.
Katty Kay is the anchor of BBC World News America, based in Washington, D.C. She is also a frequent contributor to Meet the Press and Morning Joe. In addition to her work on women's issues, Kay has covered the Clinton administration sex scandal; four presidential elections; and the wars in Kosovo, Afghanistan, and Iraq. She was at the Pentagon just 20 minutes after a hijacked plane flew into the building on 9/11—one of her most vivid journalistic memories is of interviewing soldiers still visibly shaking from the attack. Katty grew up all over the Middle East, where her father was posted as a British diplomat. She studied modern languages at Oxford and is a fluent French and Italian speaker with some "rusty Japanese." Kay juggles her journalism with raising four children with her husband, a consultant.
Claire Shipman is a journalist, author, and public speaker. Before turning to writing, Claire spent almost three decades as an award-winning television journalist. For the last 14 years Claire was a regular contributor to Good Morning America and other national broadcasts for ABC News. Before that she served as White House correspondent for NBC News where she regularly reported on presidential policy and politics for NBC Nightly News and TODAY. Prior to that, she worked for CNN for a decade, covering the White House, and also posted in Moscow for 5 years, covering the fall of the Soviet Union. Claire's reporting from Moscow helped CNN earn a National Headliners Award, and a coveted Peabody award. She received a DuPont Award and an Emmy Award for coverage of the 1989 Tiananmen Square student uprising, and a DuPont Award for CNN's coverage of the 1995 Oklahoma City bombing. She graduated from Columbia College and later earned a Master's degree from the School of International Affairs there. She's now a member of Columbia's Board of Trustees. She lives in Washington, DC with her family.
Check out their new book: Living the Confidence Code: Real Girls, Real Stories, Real Confidence https://amzn.to/3uzF86d
Follow them on Instagram https://www.instagram.com/confidencecodegirls/
(Visited 26 times, 1 visits today)