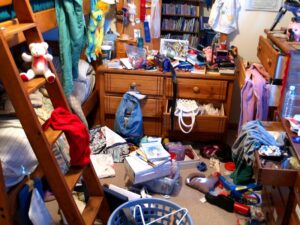 #90 CleanYour Room!!!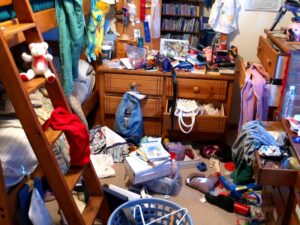 I've been listening to moms for a long time. 99.9% of moms complain about their teens messy room. So if
you struggle with your teen around cleaning their room you're not the only one. Yes this is not a life or death situation….but it is one of those damn dailies that can drain us and strain our relationship with our teens. So I have invited a very special guest who has personal experience with her own teens and also professional experience with organizing teens rooms.
Amy Gardiner is a Professional Organizer and Organizer Coach based in San Diego. Her company, Higher Order, has helped declutter, destress, and demystify home organization for more than six years.
Trained as an Organizer Coach, Amy helps clients identify and connect to their big goals, develop an actionable plan, and provides accountability and support along the way. She serves overwhelmed clients from executives to entrepreneurs, busy families, military on the move, and everyone in between.
Amy also hosts decluttering challenges on The Daily Five, a Facebook group formed to encourage, support, and inspire people world-wide to live a bigger life with less stuff.
Here are some questions we explore.
1. Why did you start the clutter free kid program. go into your philosophy.
2. What are lessons that you learned from your kids about what to do and what not to do.
3. What's realistic for teens? Did you have a clean room when you were a teen?
4. Can you tell me how you would approach helping a teen organize your room? (the process of clutter free kids)
5. What advice or tips do you have for moms who can't higher an organizer?
6. How can moms preserve the relationship with their teen and still have a clean room?
You can reach Amy for complimentary consultations by email (amy@HigherOrderHome.com) or by phone. Find out more at www.HigherOrderHome.com.
(Visited 13 times, 1 visits today)