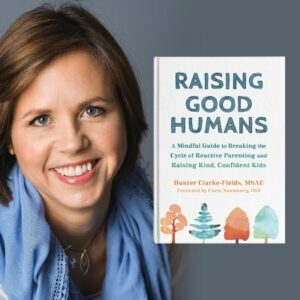 #095 Mindfulness, Meditation, and Parenting: Interview with Hunter Clark-Fields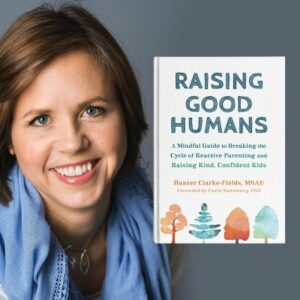 Today we are going to talk about how mindfulness meditation can dial down the drama and help you be the best parent for your teens.
Did you know that 47 different studies showed that mindfulness meditation reduces anxiety, reduces depression, increases well being , improves quality of sleep, and improves health outcomes?
I have a special guest today that will help us explore mindfulness and parenting.
Hunter Clarke-Fields, MSAE, RYT, is a mindful mama mentor. Hunter is the creator of the Mindful Parenting course, host of the Mindful Mama podcast and widely-followed author of Raising Good Humans: A Mindful Guide to Breaking the Cycle of Reactive Parenting and Raising Kind, Confident Kids. She helps parents bring more calm and peace into their daily lives. Hunter has over twenty years of experience in meditation practices and has taught mindfulness to thousands worldwide.
Hunter has a special gift for you today. Thirty-six minutes in Hunter will lead you in a special nine minute meditation to help you reduce stress.
Here are some questions you can explore.
1. How did you get interested in mindfulness and meditation practices.
2. What is mindfulness and how does that help your parenting?
3. Can you explain how mindfulness meditation changes the brain?
4. How do you practice mindfulness?
You can contact Hunter at https://www.mindfulmamamentor.com/
(Visited 6 times, 1 visits today)