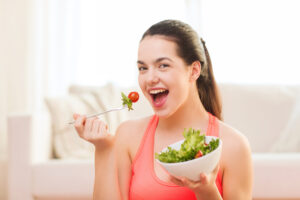 #093 Healthy Eating Habits For Teens
Many teens are preoccupied with body image and girls especially can be obsessed with weight loss. In this episode we focus on health gain. A majority of weight and health issues are caused by unhealthy eating habits started in the teen years. Teens can get caught in that dieting and deprivation cycle, which can be extremely unhealthy. The goal is to interrupt those unhealthy habits as a teen so they don't follow them into adulthood.
Dr. D Nice or Dr Beaugelin, real name Denise Hunter, MD, is an Adolescent Wellness Specialist and has been a medical doctor for over 20 years. She is board certified in Internal Medicine and Lifestyle Medicine and has completed hours of training towards board certification in Functional Medicine. She's also been a youth leader for over 30 years and a trained youth motivational speaker. Her training in improv and storytelling helps her presentations to be delightfully engaging. Dr. D-Nice also currently serves on the Wake County (North Carolina) Public School Student Health Advisory Council (SHAC).
There are 4 major areas Dr. D Nice will address:
– Your mind: how you think about food
– Your mouth: how, what and when you eat
– Your moves: how and when to exercise
– Your rest: how rest plays an important part in health and weight loss
Contact Dr. D Nice
Instagram: https://www.instagram.com/dr.dnicebeaugelin/
Website: https://www.wisdomteethinger.com/
(Visited 19 times, 1 visits today)