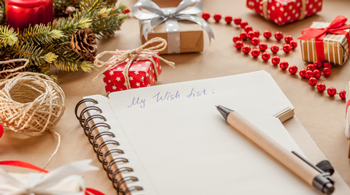 All I Want For Christmas Is _________.
Lights are twinkling in our neighborhoods and holiday music is playing everywhere. The holiday season is here.
I was reminded of one of my favorite Christmas songs when I was little, "All I want for my Christmas is my two front teeth…." This is very different from the popular Christmas song today, "All I want for Christmas is YOU."
I'm curious. How would you write your song?
All I want for Christmas is__________________________________.
It's important for you to write YOUR song and not let the tsunami wave of holiday culture write it for you.
Here are some questions to help you write YOUR holiday song.
1. What do I really want for the holidays? So often you spend all your time trying to figure out what everyone else wants for the holidays and factor yourself out of the equation.
2. What is really important to me? What does Thanksgiving, Christmas, Hanukkah mean to you? What is the deeper meaning for you?
3. Pretend you are looking back at the holidays, how would you complete this sentence?
This was the best holiday season because ________________________________________________________
_________________________________________________________________________________.
Now that you are clear, write YOUR song. In other words create YOUR holiday intention.
Let's say that all you want for Christmas is peace.
Then your Holiday Intention is: I intend to be at peace with myself and my family.
Intentions affect how you live your life. They are guiding principles. If my intention is to be at peace with myself and my family, then I need to define what peace looks like in my life and with my family.
Ask yourself these questions.
What will it take for me to be at peace with myself? What robs me of peace?
Do finances, busyness, perfectionism, overeating, traveling, and arguing, stress me out?
Once you are aware of what stresses you out then you can make conscious day-to-day decisions that will bring you peace.
Examples:
I can't work the extra shift
I can go to the party but I can only stay an hour
I choose not to react to my daughter
I need to go to bed early on Sunday
I can't go out three nights in a row
I need to be aware of my finances
I can eat 2 homemade desserts and drink 2 glasses of wine at the party
I don't have to go overboard with holiday decorations
I am not going to send Christmas cards this year
These decisions keep you in line with your intention and the payoff is peace.
Joy to the World
Let this be a season of joy. Don't be distracted by all the bright shiny objects in this culture.
Sing YOUR holiday song, and you will find joy.
And when you find joy, you can't help but share this joy with your family, friends, community and even the world.
This joy comes to you in small packages but the impact is huge.
Joy of…
Dressing your dog in Christmas apparel
Enjoying a delicious meal with friends
Giving to the world and those you love
Watching children delight in Santa
Laughing with your family
Surprise visits from loved ones
Sharing your abundance with those in need
Delicious smells of cookies and pies baking
SINGING YOUR SONG
All I want for Christmas is ________________________ !!!!!!!!