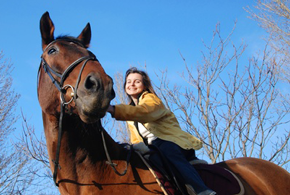 5 Things You Need To Know 'To Get Back On Your Horse.'
I live in Texas. Everyone in Texas rides a horse, right? (Well, maybe not in Houston.)
One weekend I was visiting my sister in Austin. We went to see some friends who lived outside of Austin who had four horses on several acres of land. Her friend John asked me if I would like to ride one of their horses and I said, "OK if you can find me a nice horse." It had been years since I had ridden a horse. He said, "Sure, I have just the horse for you. His name is Buckwheat." Buckwheat looked like a nice enough horse. My daughter was 5 at the time and she watched her mommy get up on the horse. She said, "Mommy, are you going to be ok?" "Of course," I replied.
I took off on Buckwheat. It didn't take long for me to realize that Buckwheat was in control and I was not. He was heading straight for a short mesquite tree. You guessed it. My horseback ride lasted for about 10 seconds before I was knocked off the horse. Thank God I was fine. I dusted myself off and walked up to John and asked him why he named his horse Buckwheat. He said, "It's because he bucks." Well, I would have liked to known that beforehand. Needless to say I didn't get back on Buckwheat.
I think most of us have been knocked off our horse in one way or another. We are riding along the happy trails of life and we get bucked and thrown off our horse. Some days it feels like our horse has trampled us.
The school called you and let you know that an inappropriate picture of your daughter has been forwarded around school. Maybe a friend disappoints you. You get laid off from work. You get the phone call late at night. Your daughter doesn't make the tryouts. You send in your manuscript to a publisher and they reject it. You said you were going to lose 20 pounds but you end up gaining more weight. Drama happens and chaos happens.
The situations distract us and throw us off course.
So here's the question. What do you do when you get thrown off your horse?
Some of you get back on your horse without missing a beat. But many of us find ourselves face down in the dirt and it is hard to get up. A part of us gives up and settles. We start to rein it in. We play it safe and lose a little bit of our spunk. We shrink back to the corral and we give up on riding in the big wide-open spaces. And it affects our outlook on life.
After that incident with your daughter, you feel like such a failure it's hard to do anything.
You are cynical about friendships, because your friend disappointed you.
You think, "nothing works out for me," because you got laid off from work.
You decide that you are a lousy writer and decide to quit, because you were rejected from the publisher.
To turn this around you need to get back on your horse.
5 Things you need to know to 'Get Back On Your Horse'
1. Get another horse. You may need to find a different horse. It would have not been wise for me to get back on Buckwheat. Just because you got knocked off your horse doesn't mean it's about your shortcomings.
You need support and more information.
You need to change the situation and get a strategy.
2. What's stopping you from getting back on the horse? This is an important question.
Are you so hurt you feel frozen? Are you afraid? Are you too busy and distracted? Is it perfectionism? Is it hopelessness or resignation? Once you are aware what's stopping you, turn it into a question.
If I wasn't afraid I would________________________________________ .
If I didn't have to get it right I would______________________________ .
Now drop the first part of the question and get back on your horse.
3. Lessons from the dirt.
Lying there in the dirt, looking up at the trees and the blue skies gives you a different perspective. What can you learn from getting knocked off the horse? It's tempting to beat yourself up but that is not useful. This is a great opportunity to go deeper inside yourself and your faith. Where do you need to grow? What's your part in this? Where do you need help? How can you approach this differently?
4. Picture yourself riding on wide-open spaces.
You need a new vision. It's easy to keep replaying the old stuff over and over again. If you keep seeing yourself get thrown from the horse it's impossible to move forward. Let it go. Ask yourself the questions in number 3 and they will help you find your new vision.
For Example: If you have lost your job you have a choice. You can spend lots of time complaining about your boss and everyone at work or you can create your ideal job description. In some ways it's easier to replay the old stuff because your brain doesn't have to think. But if you take time to create your ideal job description you start to feel more hopeful. Picture yourself thriving in your new job and surrounded with people you love. And before you know it you will be back on your horse.
5. Now Get Back On Your Horse.
It's time to take action. You can learn your lessons, do your research, and have the vision but the point of all that is to get back on the horse.
You can take small steps. I am working with this wonderful young college guy. He struggles with anxiety. He had his heart broken in a relationship about 2 years ago. He is trying one of those online dating services. He told me is doing research and making it a game. But he hadn't asked out anyone yet. He is not a player. He is scared of being rejected. I told him that it was time he took the next step. Maybe it was not the big wow date but he could ask a girl out for coffee. In other words he needed to get back in the game and back on his horse.
Happy trails to you!